So, I was a little late to catch Ciara's Got Me Good video, but about thirty minutes ago, I pressed play for the first time and I've had a smile on my face about it ever since. I had a quick little twitter rant and got so excited for what she's bringing to the table that I had to do another one of my [branding] lectures. First of all, if you haven't seen it, fix that. #pressplay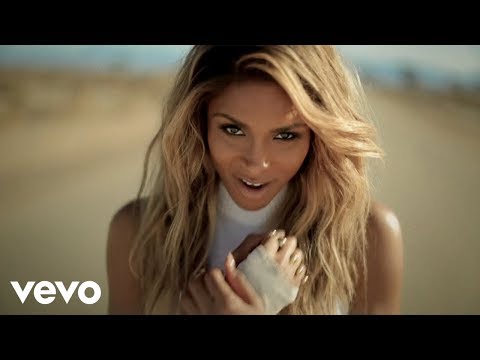 Okay, now that you've seen where Ciara's at right now, I'm sure you understand why I'm so excited. I know people have always gone back and forth about Ciara being the Janet Jackson of our generation, but if it wasn't crystal clear before, I definitely see it now. This video showed me that she is far from finished and just how amazing she is in her own special way. Eight years later, she's had a long run in the game. Let's take a sec to check out her progression:
After an awesome start with Goodies, things continued looking up with The Evolution, but then she had a not so good run with Fantasy Ride, which I think fractured her brand a bit. She got refocused and came back out with Basic Instinct, but I think it fell way short of what she was going for. Now, Ciara's back for Round 5, or what I'll call [overtime], with One Woman Army, which is set to drop early next year. The clock is ticking and it's time to turn it up. If she doesn't kill it this time around, I don't really see her having another chance.
After she took her little hiatus following Basic Instinct, I wasn't sure what she was trying to do. She changed her image (for the better; she looks amazing), found some fashion friends in the Givenchy family (notice the Givenchy Spring 13 pieces in the video above), and seemed to be on another page. Then I started hearing a few unreleased tracks, followed by Sorry, and NOW, Got Me Good.
I have a feeling that this is going to be a great project for Ciara. Yeah, yeah, I thought the same thing with Basic Instinct, but I really think it's going to work this time. Let's look at the evidence:
1. As I mentioned above, her image is completely on point. I don't think she's ever looked better, from her body to her wardrobe. She's always been a beautiful girl with a bangin' body, and now the total image revamp compliments her perfectly.
2. She's continuing to leverage her biggest strength, those dance moves, in awesome ways. When you're the best at something, let it be known. Even though she's not the strongest vocalist, Ciara has a unique package that other artists aren't coming close to nowadays. How many singers today do you see killing choreo on a consistent basis. I can't think of any…
3. It doesn't seem like she's as focused on selling a concept (like she was for Basic Instinct). The visuals for Sorry and Got Me Good are well-done, in my opinion, and I think she's selling the part perfectly. Good products don't always require a theme or some deep artistic undertone. Most of Ciara's best work is when she's not trying to be a character, but just doing what she does. Think of Ride, arguably her best video (aside from Got Me Good!). It's just her, the choreography, and that body in a white room. Simple.
4. And most importantly, it looks like she's actually having fun with it! This latest video is a perfect example of that. She looks happy and so confident. She's in it right now and it shows. If everything she drops is on this level, I don't see how she can't win. I really think her best bet is to just make good work, one thing at a time, and enjoy the ride. Fantasy Ride, which was also concept-heavy and kind of jacked Beyonce's Sasha Fierce swag, failed miserably because the marketing and branding of that project was weak and WACK. Ciara, leave the themes to Rihanna. That's her gimmick; don't try and make it yours.
My verdict: I think if she just stays dope and keeps doing her own thing, she'll bring it home. She dominates in a special niche that's underpopulated and she just has to take advantage of that like she used to. And that rule go for every brand ultimately. Find your own cool and capitalize on it. I'm rooting for Ciara and I'm excited to see what's next. Class dismissed.