I love it when brands switch things up, break a few barriers, and look good while they do it. As you can tell from some of my past posts, Calvin Klein is a brand that I've been rooting for regularly over the past year. The release of ckOne Shock introduced, what I believe is, the latest step in advancing the Calvin Klein brand for a new audience. It's a fun, edgy brand extension with an identity that people our age not only relate to, but want to become a part of. This year, they're keeping that movement going with the launch of Calvin Klein Bold for men, a sexy, new line of underwear for the guys that is sure to turn up the heat this summer.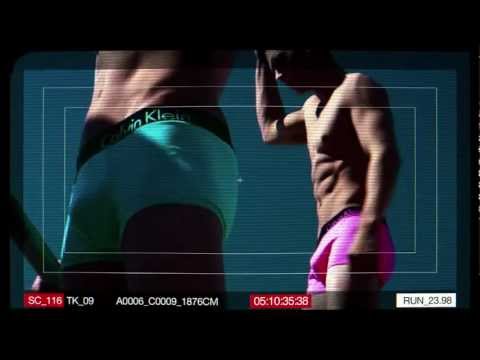 Inspired in part by the upcoming 2012 Olympics, Kevin Carrigan, the global creative director at Calvin Klein, focused on incorporating, what he considers, bold, bright, and athletic colors into the collection. The logo was even placed on the "Olympic one-side" of the black waistbands, the area above the left hip seen after a javelin thrower completes his movement; an interesting placement meant to celebrate the athletic spirit. This special new line certainly breaks away from the typical neutral color palettes common to many of the brand's past runway collections and makes a statement to remember. Whether you're old-school Calvin Klein or down with the latest CK movements, it's okay to add some color to your look.
As far as the actual campaign for the line, I'm super jealous of the guys that got featured! The imagery was shot by the renowned Steven Klein and featured models Myles Crosby, Chris Garavaglia, Arran Sly, and the c0-winner of last year's VMAN/Ford Model Search, Matthew Terry. Shot in Joshua Tree, California, these four were some of the first to slip into the line's amazing colors and got to work it out on set in the middle of the Cali desert! Carrigan and the CK team wanted models that could pass for athletes, not celebrities, this time around, so picking Matthew Terry was a good idea. The 20-year old model worked as a personal trainer back in Philly before winning the model search. Calvin Klein Bold S/S12 will serve as Terry's first global advertising campaign. Not a bad way to kickstart a career, huh? Check out some more images from the campaign below.
[Photographer: Steven Klein]
[Stylist: Karl Templer]
[Set Designer: Stefan Beckman]
[Hair & Make-Up: Tomo Jidai, Mark Carrasquillo]