The summer break is officially here! I got back to Houston Monday night and I'll be here for the next two weeks until I leave for New York, so I'm trying to spend as much of time [staying productive] as possible, which means NOT wasting my day in front of the television. However, as I scrolled through the TV guide yesterday morning during breakfast, I noticed Andy Warhol's Factory People playing on Ovation. I think it was only right that I made an exception for this.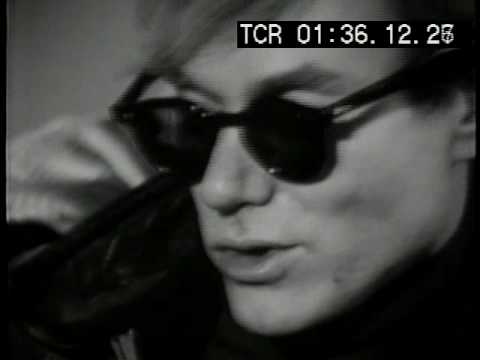 [A clip of Andy Warhol and a few members of the Factory during an interview with David Silver]
Andy Warhol's Factory People is a three-part documentary that takes us on a journey inside the walls of Warhol's Silver Factory, which he created in 1964 in a factory loft on E. 47th Street in New York City. Incorporating clips of his work, interviews with the people that knew him best, and archived footage of the artist and his Factory crew, the series gives us an insider view of the life and influence of Andy Warhol during a time of personal and creative revolution throughout our country. I have the strangest fascination with people that your average Joe would categorize as 'weird', so I found it amazing to see how such a socially awkward, young genius was able to satisfy the needs of New York's lost generation and lead the avant-garde movement of the time, while balancing out the nightlife of Manhattan in the 60s.
If you have DVR or an old-school VCR, or if you just like staying up all night, you can check it out for yourself. Part 1 of Andy Warhol's Factory People will be airing again tonight at 3:00am on Ovation. Parts 2 & 3 will be airing tomorrow and Friday night at the same time. Check your local listings and cable provider for showing times in your city.